The Ministry of Commerce Joins Hands with Nürnberg Messe in Organizing 
BIOFACH Southeast Asia 2019 and Natural Expo Southeast Asia 2019
The Grant Fairs Continue for 2nd Year to Bring Thai Organic Products to International Trade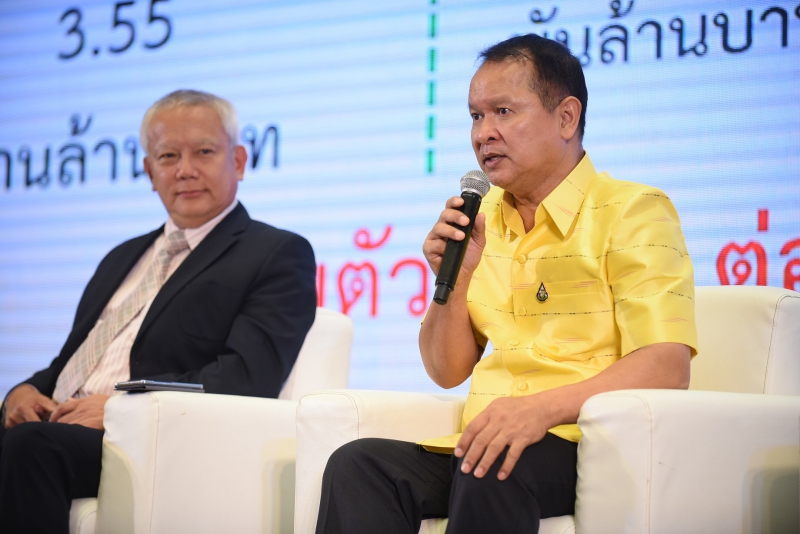 5 July 2019 – The Ministry of Commerce, via the Department of Internal Trade, in collaboration with German-firm Nürnberg Messe is now ready to host international organic fairs in pursuit of the vision to bring Thai products to international market and showcase Thailand's potential. These fairs, BIOFACH Southeast Asia 2019 and Natural Expo Southeast Asia 2019, will be held at Halls 7-8, IMPACT Muang Thong Thai between July 11 and 14.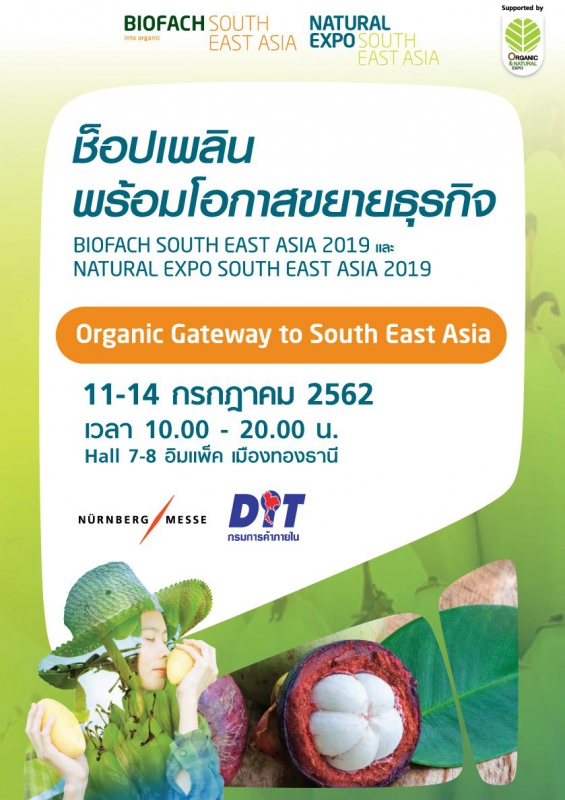 Mr. Whichai Phochanakij, director general of the Department of Internal Trade, the Ministry of Commerce, reveals that consumers across the world have become increasingly health-conscious. The selection of organic products, which are free from contaminants and chemicals, in particular is a growing trend among the new generation. The world's organic agriculture market is now worth 104 billion US dollar or about 3.55 trillion baht, with the annual growth rate of 20% on average. Key organic markets are the United States, Canada, Europe, China and Australia. Some ASEAN nations namely Singapore, Malaysia, the Philippines, and Thailand, have also seen their organic agriculture market growing by 10% each year. Driven by global demand for organic agricultural produce, Thailand's organic market has been growing in value. It is now worth about 3 billion baht. Of the amount, 900 million baht are from domestic consumption and 2.1 billion baht are from exports. Thailand's exports account for 0.06% of the world's organic crop value. With the annual growth rate of 10% a year, Thailand's organic market has ample opportunities to expand further.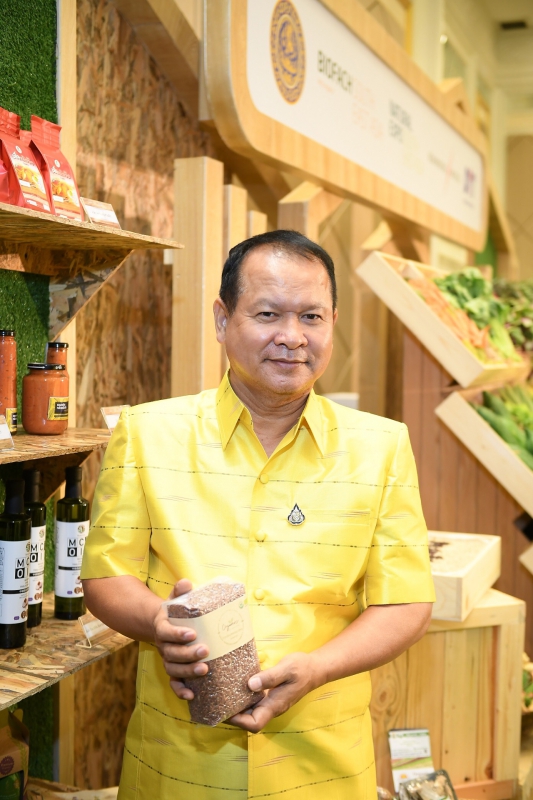 "The Department of Internal Trade has accorded importance to Thailand's organic agriculture all along. It has also had the policy to seriously develop and promote the country's organic market so as to install Thailand as the ASEAN's leader when it comes to manufacturing, trading and consumption of organic products. In 2019, the Ministry of Commerce via the Department of Internal Trade has collaborated with Germany's Nürnberg Messe in organizing the BIOFACH Southeast Asia 2019 and the Natural Expo Southeast Asia 2019. These events will be held for the second year as Southeast Asia's biggest fairs for organic and natural products. This year, they embrace the "Organic Gateway to Southeast Asia" theme to mark a step ahead from 2018 events' Southeast Asia; Home of Organic concept. The goals are to bring Thai organic products to international trade and to establish Thailand as the hub for ASEAN's organic agriculture development and integration. The Ministry of Commerce has invited organic entrepreneurs from other parts of the region to attend meetings, join business-matching, operate booths and sell their 
products alongside their Thai counterparts at the upcoming fairs. The four-day events are expected to attract at least 50,000 visitors. Target groups are manufacturers, exporters, and other entrepreneurs in the organic market, representatives from relevant private and government organizations as well as international organizations, and also consumers of organic and natural products. We believe that the events will generate the sales of over 72 million baht, up by 97% from the previous year, and offer rich opportunities for selling and exporting Thai organic products to regional and global markets," he continues.
Mr. Whichai adds that, "The BIOFACH Southeast Asia 2019 and the Natural Expo Southeast Asia 2019 will bring together more than 300 manufacturers and entrepreneurs who are certified by domestic or international standards on organic or natural products. They constitute key forums to showcase Thailand's potential as the ASEAN's leader of organic manufacturing, trading and consumption. Thailand is now a manufacturing base of organic products that meet all international standards. It, moreover, sits on a strategic location that offers convenient transportation of products to regional markets. At present, Thailand has been the seventh country in the world to have inked cooperation with German-firm Nürnberg Messe to host world-class organic events. The first six countries are Germany, the United States, Brazil, China, India and Japan.
There will be over 400 booths at the upcoming fairs, presenting all kinds of organic products. Consumers, regardless of their age and gender, are bound to find what they want at the fair. Available there will be organic foods, skincare/hair care products, cosmetics, kids-and-moms products, healthy products for pets, containers & packaging, Neem-extract pesticide, organic fertilizer, bioorganic household commodities to replace the use of chemicals, as well as organic services by many groups of businesses such as restaurants, hotels, spas and attractions. This year, the expos will feature six zones: 1) Zone for products certified by international standards (115 exhibitors); 2) Zone for products certified by Thai standards (71 exhibitors); 3) Zone for natural products (122 exhibitors); 4) Zone for organic-food restaurants such as Lemon Farm, Rangsit Farm, Ariya Organic Café, Gindeehealthypinto, Poh Rak Food Products, Harmony Life International Company Limited, and Kingdom Organic Network (Thailand) Company Limited and their highly-recommended dishes such as spicy mulberry paste, ready-to-eat noodle with moroheiya, buttery-fly-pea sticky rice with fried pork; organic dumplings and buns; tasty rice with cereals; and a great variety of vegetarian dishes and healthy drinks; 5) Counseling zone featuring representatives from 10 private/government organizations such as the National Bureau of Agricultural Commodity and Food Standards, the Thailand Institute of Scientific and Technological Research, the National Innovation Agency, the Organic Agriculture Certification Thailand, the Institute for Small and Medium Enterprises Development (ISMED), the German – Thai Chamber of Commerce, and the Thai 
Organic Trade Association (TOTA); and 6) Zone for special booths such as the Kaew Kaset Foundation's booth, the Organic Village, the Department of Foreign Trade's booth, the ASEAN Pavilion, and the Pavilion by the SUPPORT Arts and Crafts International Center of Thailand (Public Organization) or SACICT. The fairs have also attracted foreign exhibitors from 12 nations namely the United States, Germany, Turkey, India, China, Cambodia, Myanmar, Vietnam, Malaysia, Laos, Indonesia and the Philippines. 
This year, the fairs will also present many interesting activities on their main stage. For example, celebrity chefs will demonstrate how to prepare organic foods and beverages. There will also be talks by successful entrepreneurs from organic fields. Topics include how to run a comprehensive organic-mango business, how to make weight-loss coconut-based beverages, and Biodynamic (what is more than organic). Visitors will also get opportunities to meet entertainment figures. Took Chanokwanan, an actress-cum model, for example will be there to share her modern-generation view towards organic lifestyles. Workshops will also be held as parts of the fairs. They are must-not-miss activities too, because they promise to equip participants with a means to earn supplementary income. For instance, there will be workshops on kokedama (moss balls), gardens in bottles, organic gum Benjamin, organic hair dye, tie-dye bags, hand-painted fabric hats, fabric bags, organic tofu salad and tarts with organic fruits.
The BIOFACH Southeast Asia 2019 and the Natural Expo Southeast Asia 2019 will host academic seminars too. Designed to equip organic entrepreneurs with marketing knowledge, these seminar addresses interesting topics such as 'Thai Organic Business: Challenges Ahead', 'Update situation of organic beauty and wellness industry in Thailand', 'Upgrade your brand in South East Asia: NATURLAND positive impact on the value chain', and 'Thai organic consumer trends'. Gurus from Thailand and beyond have promised to deliver great lecture. So, health-conscious consumers should not miss them either. Come to the events and they get everything they hope for.
The BIOFACH Southeast Asia 2019 and the Natural Expo Southeast Asia 2019 will run from 11 to 14 July 2019, with B2B (Trade days) scheduled between 10am and 12.30pm on July 11 and 12. Retailing will be between 12.30pm and 8pm on July 11 and 12, between 10am and 8pm on July 13, and between 10am and 7pm on July 14. These events are held at Halls 7-8, IMPACT Muang Thong Thani. For more information, please browse to http://th.biofach-southeastasia.com or Facebook Fanpage : Organic & Natural Expo, or call 02-507-5723.